Interesting article in The Guardian:
What does it tell us about the housing market that my flat earns so much more than I do?
To stop our cites turning into ghettos for the rich, we need to rein in rogue landlords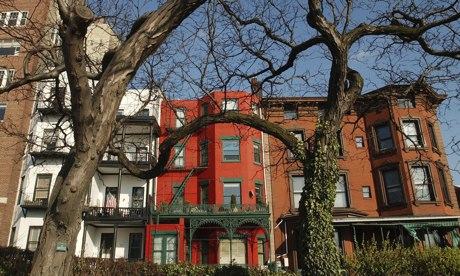 Brooklyn, NYC … 'In New York, 45% of people live in rent-stabilised accommodation, where landlords are limited to increasing rates by a certain percentage each year.' Photograph: Kathy Willens/Associated Press
Realising that my two-bedroom flat now earns more than I do was a bitter-sweet moment. A neighbour regaled me with the news that a standard apartment in our south London street had just changed hands for an astonishing £700,000. If true, that means my flat in Balham has put on £100,000 in the past year. It went up by a similar amount the year before, and the year prior to that.
As a freelance hack who takes time out to write books, it is no great shock that my annual income is not keeping pace with the value of my London home, which I bought over 10 years ago. But most of my neighbours, who work dawn to dusk five days a week, are also struggling to make anywhere near that amount.
On a personal level, this housing boom is not a liberating force but a trap, because if I sell to make a fast buck and move to a cheaper place, I will never again be able to move back into the capital. I can no longer afford my own home, as it were. But quite apart from the difficulty of playing the housing market if you are not an oligarch, what does it say about our society when we can, in theory at least, make more money doing nothing than we can by the sweat of our brow?
…
Bolding mine.