Ve vill make you!
Yes, you don't know it but you really want to live in an apartment near a railway station and either take the train or ride a bicycle or walk to work.
And so we all have to be educated, and forced if necessary to understand this.  And this will be done via the Auckland Council's never ending campaign to enlighten us.  And they do this via their glossy mini magazines in the post, the implementation of plan after plan (you were consulted, you just don't remember) and the endless message via tv soundbites etc. that we are creating the world's most liveable city (a very arrogant goal if you ask me, but no one questions it).
Part of all this is the affordable housing issue which is the topic of the day now, with everyone climbing aboard ready to point the finger of blame or offer a solution.
This article is brilliant.  It describes how local government policies are affecting the poorer people in our society.  By creating the housing affordability problem.  The conclusion is this:
The current regulatory framework and co-operation between central and local government is unsatisfactory.
The decisions that determine the supply response to housing demand and hence the market price are made by local government. But the responsibility for addressing the poverty issues resulting from unaffordable housing is a central government problem.
This split between decision making and responsibility with no acknowledgement how one affects the other is causing serious difficulties for New Zealand.
This whole area is highly dysfunctional and long overdue for reform.
Highlighting mine.
I've been saying this for a while; That local government policies are hurting poor people the most –  the very people they often say they are trying to help – for instance when they take development contributions off of a 'rich' developer, supposedly so they can use that money to provide services in the community.  But of course it goes straight into their pockets. Bastards.
But of course anyone challenging the smart growth agenda is pissing in the wind.  Over in New York, they want tiny apartments:
A possible solution to New York's increasing over-crowding problem has been unveiled as "micro-apartments", a collection of tiny blocks measuring as little as 23 sq m each.
Wow a whole 23 sqm.  The billionaire Michael Bloomberg apparently thinks it's a great idea, I wonder if he lives in one?  Or perhaps a house set on a nice piece of land?
Auckland planner's wet dream is taking shape not far from me in New Lynn.  Apartment towers, shared use roads (with fancy shmancy cobble stones, no curbs etc.), traffic lights for Africa (who wants those dirty cars anyway), a $300 million dollar rail trench, nice big train/bus depot and so on.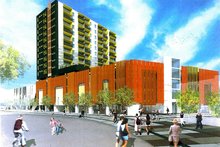 It WILL be done even if they have to compulsorily acquire your property!  After all, who knows better than a council planner how a suburban precinct should be developed!
I went and had a look at the sales office today.  Mostly people of asian ethnicity there, including the salesman.    And this is not a situation unique to New Lynn, with foreign buyers flying into Auckland and snapping up apartments for their university attending offspring.
Parents of foreign students are flying into Auckland on short visits to cram in apartment viewings and making quick deals for children studying here.
This can hardly be helping affordability.
At least more are being built with consents up to 2008 levels:
Apartments boosted the increase in new housing consented last month," said Cardno. "In December, 232 new apartments were consented, and just over half of these were in Auckland and Wellington."
Perhaps the affordability problem will just be printed away?
By simply pressing the 'enter' key on the keypad we intend to give the architect the possibility to make buildings directly," says Dini, "without intermediaries who can add interpretation and make mistakes in the realisation."
His vision is to cut out the expensive, cumbersome manual processes of conventional construction and give the designer absolute freedom.