Yep, it's a bit like shooting fish in a barrel:
House colour stand off-ends in acrimony
By Lauren Preistley
5:30 AM Monday Oct 31, 2011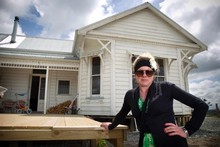 Julie Cotton says she can't see why the council has made such a big deal over her house being white, especially as there are other white houses in the area. Photo / Natalie Slade
An almost year-long battle between the Auckland Council and the Cotton family over the colour of their 100-year-old dream home has come to an unhappy resolution.
The stand-off began after Julie and Rodney Cotton bought the Epsom heritage villa in January and moved it to a section overlooking Kaipara Harbour.
The villa had been painted white its whole life – a council heritage requirement for a house of that age in Epsom – and the Cottons wanted it to stay that way.
However, shortly after moving it to Tapora, the family were told by a council inspector they had to paint the house one of 50 dark colours, including green, brown, or black.
The council are just so freaking unhelpful it's not funny.  This is a legacy issue from the Rodney council actually.
So I saw this, this morning and then went and dropped my kids off at daycare where I got into a conversation with the owner about her resource consent hassles.  She's trying shift a couple of houses onto an existing daycare site she owns.  She was hoping to be up and running by Christmas (this has been going on for some time) and she's now saying her planner is saying she MIGHT have a resource consent approval by March 2012.  Then building consent… then the works… and then she can use the buildings… So maybe a 12 month timeframe for her – actually not too bad for these times.