This is almost unbelievable, Auckland Transport are stopping work on footpaths, roads etc. for over 2 months while the RWC is on:
Builders: Stopwork for Cup is absurd
By Michael Dickison
5:30 AM Saturday Jul 30, 2011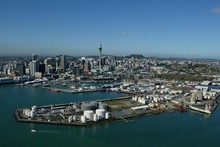 Construction work will halt for two months in main areas of Auckland as the city welcomes visitors to the Rugby World Cup and tries to keep traffic flowing.
Contractors say the move is driving them into the ground, and a workers' union says it is a poor way to keep up appearances – akin to removing the homeless from city streets "for a stupid game of rugby".
Auckland Transport says the moratorium on works will cover utility, construction and demolition companies between August 15 and October 30, a total of 77 days.
The city centre, arterial roads and areas around World Cup venues will be affected.
Spokesman Wally Thomas said the moratorium would prohibit new work digging up footpaths.
Man these guys are just so arrogant aren't they?
This was my favourite quote from the article:
Heb Construction contract manager David Loe said the lull in work was a continuation of the way the Super City operated.

"After the amalgamation [of Auckland councils] there was quite a reduction in work.

"They will put it down to efficiencies, but we will call it 'can't get themselves organised'," Mr Loe said.
Lol.