This is one reason why I don't support public transport.   If you rely on it, you can become a target for fee/cost increases.  And you can't do anything about it:
Fury as rail minister says fares are not as high as people claim
Norman Baker tells commuters they are paying for 'premium product', but Bob Crow says passengers being bled dry by spivs
The Guardian,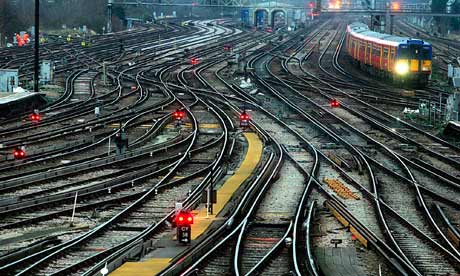 Soaring rail prices – UK train tickets are the most costly in Europe. A 24-mile commute into Paris is £924 a year, compared with £3,268 into London. Photograph: PA
Commuters have expressed fury after the railways minister said train fares – some of which have soared by almost 90% over the past decade – were "not nearly as expensive" as presented by the media.
Norman Baker said fares, which were raised by an average of 3.9% on Wednesday, were not that expensive if passengers took advantage of advance and off-peak tickets. His comments came as the government introduced the tenth consecutive year of inflation-busting price rises.
"Once you take the basket of fares, include early advance and off-peaks, we are not nearly as expensive as has been presented," he told BBC Radio 5 Live.
Some fares between London and Norwich have gone up by 9.2%, and campaigners point out that 10 successive years of above-inflation fare increases has led to an 87.5% rise in the cost of an annual season ticket from Sevenoaks, Kent, to London to £3,112 compared with £1,660 in 2003.
Rest of Story
This reminds me of electricity price rises here in NZ.  Or water price rises for that matter.  These are fundamental things we can't do without.
And because of that, we're being screwed.